PENGAWASAN, KESADARAN RETRIBUSI SERTA SARANA DAN PRASARANA SEBAGAI PENYEBAB TIDAK TERCAPAINYA TARGET PENERIMAAN RETRIBUSI PELAYANAN SAMPAH DI KABUPATEN LOMBOK BARAT
Keywords:
Control of retribution collection, Awareness of retribution payers, Infrastructure and facilities targeted earning of garbage retribution, West Lombok Regency
Abstract
The average earning of garbage disposal service retribution by West Lombok Regency's Office of City Planning, Gardening and Sanitation during the period of 2010-2014 was only 40% of the target in amount. This lower level of earning had prevented the Office from providing optimum services and caused it to be dependent on the Regency Government's subsidies. Ten employees of the Office and one retribution payer were selected as interviewees/informants through a purposive sampling technique,  and  the data taken from the interviews and from other documents were analyzed in a series of data reduction, display, and verification. The conclusion of this study provides an illustration on how the failure to achieve the targeted amount of revenue was caused by the lack of control in the part of the supervising levy collectors, the low awareness in the part of the community that prevented them from participating in the garbage disposal management and paying the retribution, and the inadequate availability of supporting infrastructure and facilities vis-a-vis the huge amount of garbage dumped every day by the city's population.
References
Badan Pusat Statistik Kabupaten Lombok Barat. 2017. Kabupaten Lombok Barat Dalam Angka 2016.
Badan Pusat Statistik Kabupaten Lombok Barat. 2016. Kabupaten Lombok Barat Dalam Angka 2015.
Boby Fandhi Putra, Dwi Atmanto, Nila Firdausi Nuzula. 2014. Analisis Efektivitas Penerimaan Dan Kontribusi Retribusi Daerah Terhadap Pendapatan Asli Daerah (Studi Pada Dinas Pengelola Keuangan Daerah Kota Blitar). Jurnal Administrasi Bisnis (JAB) Vol. 10 No. 1 Mei 2014 (http://administrasibisnis.studentjournal.ub.ac.id)
Darwin. 2010. Pajak Daerah Dan Retribusi Daerah. Jakarta: Mitra Wacana media.



Dinas Tata Kota, Pertamanan dan Kebersihan Kabupaten Lombok Barat. 2017. Profil Dinas Tata Kota, Pertamanan dan Kebersihan 2016.

Iwan Susanto dan Benno Rahardyan. 2016. Analisis Penerimaan Retribusi Sampah oleh Masyarakat dalam Upaya Peningkatan Pelayanan Pengelolaan Persampahan di Kota Bandung Bagian Timur. Jurnal Perencanaan Wilayah dan Kota. Journal of Regional and City PlanningVol. 27, no. 3, pp. 219-235, December 2016 DOI: 10.5614/jrcp.2016.27.3.4
Peraturan Daerah Kabupaten Lombok Barat Nomor 3 Tahun 2011 Tentang Retribusi Jasa Umum.
Prakorso, Kesit Bambang. 2003. Pajak dan Retribusi Daerah. Yogyakarta: UII Press.
Rahmatullah. 2016. Pengelolaan Retribusi Persampahan/Kebersihan Dalam Meningkatkan Pendapatan Asli Daerah (PAD) Pada Dinas Kebersihan Dan Pertamanan Kota Samarinda. eJournal Administrasi Negara, Vol 4 (4), 2016: 5023-5033 ISSN 0000-0000, ejournal.an.fisip-unmul.ac.id
Riyadhi Adyan Syah. 2016. Faktor-Faktor Penyebab Tidak Tercapainya Penerimaan Pajak Bumi Dan Bangunan (PBB) Di Kota Bandar Lampung. Skripsi Fakultas Ilmu Sosial Dan Ilmu Politik Universitas Lampung.
Sjafrizal. 2008. Ekonomi Regional Teori dan Aplikasi. Padang: Baduose Media.
Siahaan, Marihot P. 2013. Pajak Daerah dan Retribusi Dae ah. Jakarta: Rajawali Pers.
Sri Sundari, Lili Syafitri, Raisa Pratiwi. 2014. Analisis Faktor-Faktor Penyebab Tidak Tercapainya Target Peneriman Retribusi Pasar Pada Perusahaan Daerah Pasar Palembang Jaya. Artikel ilmiah STIE MDP Palembang.
Undang-Undang Republik Indonesia Nomor 28 Tahun 2009 tentang Pajak Daerah dan Retribusi Daerah.
Undang-Undang Republik Indonesia Nomor 23 Tahun 2014 tentang Pemerintahan Daerah.
Undang-Undang Republik Indonesia Nomor 33 Tahun 2004 tentang Perimbangan Keuangan Antara Pemerintah Pusat dan Daerah.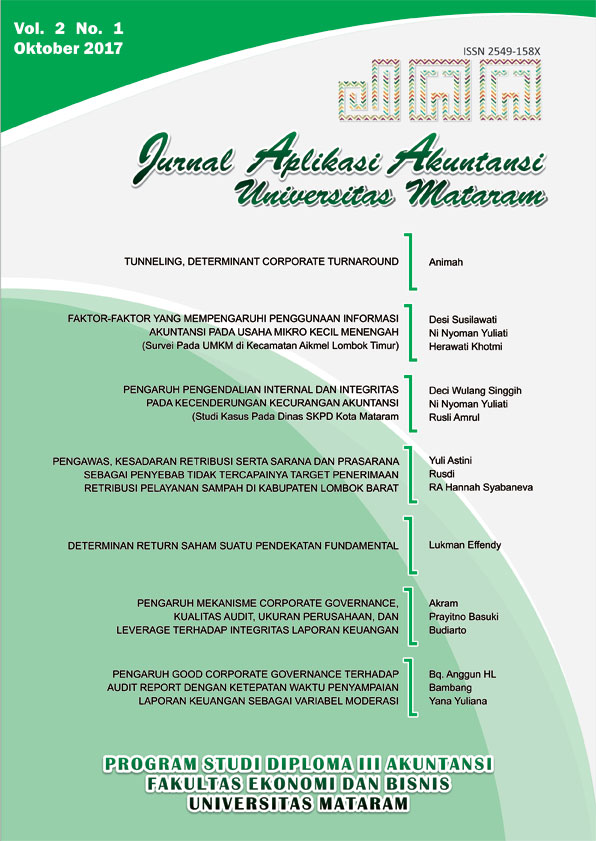 Downloads
How to Cite
Astini, Y., Rusdi, R., & Syabaneva, R. H. (2018). PENGAWASAN, KESADARAN RETRIBUSI SERTA SARANA DAN PRASARANA SEBAGAI PENYEBAB TIDAK TERCAPAINYA TARGET PENERIMAAN RETRIBUSI PELAYANAN SAMPAH DI KABUPATEN LOMBOK BARAT. Jurnal Aplikasi Akuntansi, 2(1), 62. https://doi.org/10.29303/jaa.v2i1.10