PERBEDAAN KREDIT BERMASALAH DAN KELANCARAN KAS BERDASARKAN KEPEMILIKAN BANK PERKREDITAN RAKYAT
Keywords:
Kredit Bermasalah, Kelancaran Kas, Kepemilikan Daerah, Perseroan Terbatas
Abstract
Tujuan penelitian ini adalah Untuk menganalisis perbedaan BPR Berbadan Usaha PT dengan BPR berbadan Usaha PD  ditinjau dari tingkat kredit bermasalah dan tingkat kelancaran kas perusahaan. Penelitian ini merupakan penelitian kuantitatif dengan jenis penelitian komparatif yang membandingkan antara Bank Perkreditan Rakyat (BPR) kepemilikan manajerial dengan BPR kepemilikan pemerintah atau perusahaan daerah yang ada di Nusa Tenggara Barat. Lokasi penelitian pada  Bank Perkreditan Rakyat yang ada di Provinsi Nusa Tenggara Barat (NTB) yang tahun 2019 mengalami risiko kredit dan risiko likuiditas yang tinggi. Peningkatan risiko tersebut terjadi menarik utuk dinalisis perbedaan kinerja BPR milik swasta dengan milik pemerintah. Alat analisis yang digunakan adalah uji t (uji beda) independen. Hasil menunjukan bahwa ada perbedaan BPR Perusahaan Daerah dengan BPR Perseroan Terbatas ditinjau dari kelancaran kas sedangkan ditinjau dari kredit bermasalah tidak ada perbedaan diantara kedua bentuk badan usaha tersebut.
References
Anjani, D.P. dan Pakpahan R., 2020, Komparasi Kinerja Keuangan Bank Pemerintah dan Bank Swasta Nasional, Prosiding The 11th Industrial Research Workshop and National Seminar, pp.1048-1053
Dandapani, K., Lawrence, E.R., Patterson, F.M., 2017, The Effect of Holding Company Affiliation on Bank Risk and the 2008 Financial Crisis ", Studies in Economics and Finance, Vol. 34 Iss 1 pp. 1-33.

Chalermchavichien, Pichaphop, S. Jumreornvong, P. Jiraporn, dan M. Singh, 2011, The Effect of Bank Ownership on Capital Adequacy, Liquidity and Capital Stability (Basel II and Basel III), www.ssrn.com

Du, Xingqiang, 2013, Does Religion Matter to Owner-Manager Agency Costs? Evidence from China, Journal Business Ethic, 118, pp. 319-347.
Ghosh, A. 2017, "Impact of non-performing loans on US product and labor markets", Journal of Financial Economic Policy, Vol. 9 Issue: 3, pp.302-323.
Putra, I.N.N.A., 2013, Perbedaan Profitabilitas dan Tingkat Pengawasan Sebelum dan Sesudah Merger Pada Bank Perkreditan Rakyat, Jurnal Keuangan dan Perbankan, vol.17, no.2, pp. 302-309.
Putri, I.D.A.D.E dan Damayanthi, I.G.A.E. 2013, Analisis Perbedaan Tingkat Kesehatan bank berdasarkan RGEC Pada perusahaan perbankan besar dan kecil, E-Jurnal Akuntansi Universitas Udayana, Vol.5, no.2, pp. 483-496.
Rashid, Afzalur, 2015, Revisiting Agency Theory: Evidence of Board Independence and Agency Cost from Bangladesh, Journal Business Ethic, 130, pp. 181-198.
Rubin, Amir, 2007, Ownership Level, Ownership Concentration, and Liquidity, Journal of Financial Markets, Vol. 10, Issue 3, August, pp. 219-248.
Sabrina, F.N., dan Muharam, H., 2015, Analisis Pengaruh Kepemilikan Pemerintah, Kepemilikan Asing, Risiko Likuiditas Dan Risiko Kredit Terhadap Kinerja Keuangan Bank, Diponegoro Journal Of Management, Vol.4, No.1, pp. 1-13.
Sarath, D., & Pham D.V. 2015, The determinants of Vietnamese banks' lending behavior, Journal of Economic Studies, Vol. 42 Iss 5 pp. 861 – 877.
Tan, Y., dan Anchor J. 2017. Does competition only impact on insolvency risk? New evidence from the Chinese banking industry", International Journal of Managerial Finance, Vol. 13 Issue: 3, pp.1-35.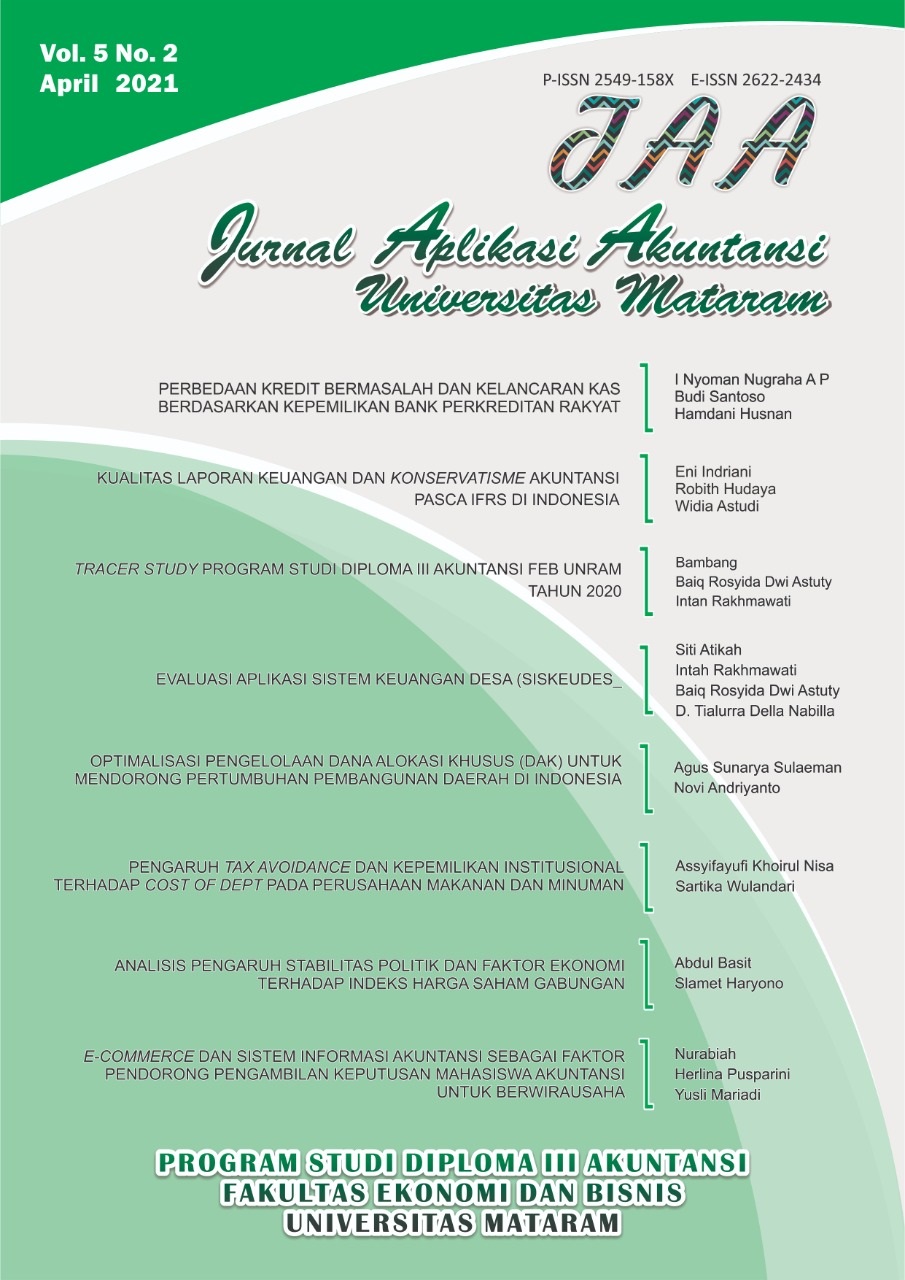 Downloads
How to Cite
Putra, I. N. N. A., Santoso, B., & Husnan, L. H. (2021). PERBEDAAN KREDIT BERMASALAH DAN KELANCARAN KAS BERDASARKAN KEPEMILIKAN BANK PERKREDITAN RAKYAT. Jurnal Aplikasi Akuntansi, 5(2), 110–123. https://doi.org/10.29303/jaa.v5i2.102