PENGARUH MEKANISME CORPORATE GOVERNANCE DAN UKURAN PERUSAHAAN TERHADAP KINERJA KEUANGAN (Survei Pada Perusahaan Manufaktur yang terdaftar di BEI )
Keywords:
Corporate Governance Mechanisms, Firm Size, Financial Performance
Abstract
The purpose of this research is to examine the effect of corporate governance mechanisms,  firm size of financial performance. The Population of this research is the company manufacturing  in BEI. The sampling technique used is purposive sampling. The analytical tool used is using partial least  square program. The independent variables in this research are corporate governance mechanism,  firm size  while the dependent variable is the performance of the financial. The result of the research shows that firm size  influence to financial performance, while other variables such as corporate governance mechanisms have no effect negative  to financial performance.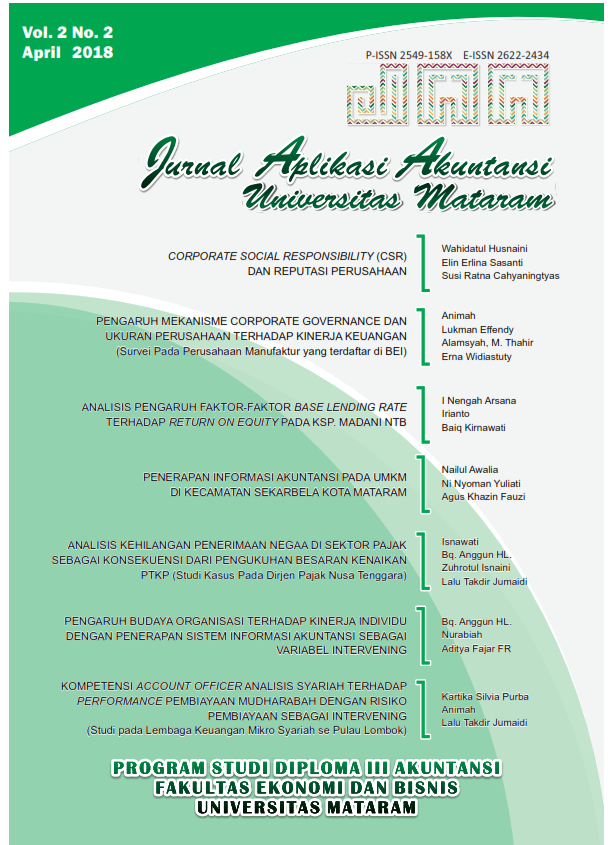 Downloads
How to Cite
Animah, A., Effendy, L., Thahir, A. M., & Widiastuty, E. (2018). PENGARUH MEKANISME CORPORATE GOVERNANCE DAN UKURAN PERUSAHAAN TERHADAP KINERJA KEUANGAN (Survei Pada Perusahaan Manufaktur yang terdaftar di BEI ). Jurnal Aplikasi Akuntansi, 2(2), 010–031. https://doi.org/10.29303/jaa.v2i2.16