PENGUNGKAPAN CORPORATE SOCIAL RESPONSIBILITY (SURVEI PADA PERUSAHAAN YANG TERMASUK DALAM INDEKS SRI KEHATI)
Keywords:
independent directors, audit committee, institutional ownership, disclosure of corporate social responsibility
Abstract
The objective of this study is to examine the influence of corporate governance mechanism on the disclosure of CSR. Studies conducted on the companies included in the SRI KEHATI index during 2011-2014. The study obtained 18 companies as sample of this study. The results of multiple linear regression analysis showed  that  the  audit  committee  and independent commissioner have no influence on the disclosure of CSR, while institutional ownership was found to have influence on the disclosure of CSR. The study implies that the stakeholders are able to change the dimensions of CSR implementation, whereby previously it was only for humanitarian and environmental aspects, CSR is now able to increase its profit and finally the goal to sustainability can be manifested
References
Anggraini, Fr. Reni Retno. 2006. Pengungkapan Informasi Sosial dan Faktor-Faktor yang Mempengaruhi Pengungkapan Informasi Sosial dalam Laporan Tahunan. SNA IX. Padang.
Faqih, Mansyur. 2010. Dasari CSR dengan Etika Bisnis. www.r publika.co.id (diakses tanggal 3 Mei 2011).
Freundlieb, M. & Teuteberg, F. (2012). Evaluating the quality of web based sustainability reports: a multi-method framework. Disampaikan pada 45th Hawaii International Conference on System Sciences. Diakses pada 19 April 2012 dari : http://secure3.computer.org/csdl/proceedings/hicss/ 2012/4525/00/4525b177- abs.html
Ghozali, Imam. 2006. Aplikasi Analisis Multivariate dengan Program SPSS. Edisi 4. BP-UNDIP: Semarang.
Handayani, Ari Retno. 2010. Pengaruh Environmental Performance terhadap Environmental Disclosure dan Economic Performance serta Environmental Disclosure terhadap Economic Performance. Universitas Diponegoro: Semarang.
Nilawaty. 2011. Perbandingan Pengaturan Tentang Corporate Social Responsibility Antara Indonesia dengan Cina dalam Upaya Perwujudan Prinsip Good Corporate Governance di Indonesia. Universitas Sumatera Utara: Medan.
Nurkhin, Ahmad. 2010. Corporate Governance dan Profitabilitas; Pengaruhnya terhadap Pengungkapan CSR Sosial Perusahaan. Jurnal Dinamika Akuntansi Vol 2 No1 Universitas Surakarta: Solo
Rustiarini, Wayan. 2010. Pengaruh Corporate Governance pada Hubungan Corporate Social Responsibility dan Nilai Perusahaan. SNA XIII Purwokerto.
Sembiring, Eddy Rismanda. 2005. Karakteristik Perusahaan dan Pengungkapan Tanggung Jawab Sosial: Studi Empiris pada Perusahaan yang Tercatat di Bursa Efek Jakarta. SNA VIII Solo.
Siswantaya, I Gde. 2007. Mekanisme Corporate Governace dan Manajemen
Laba (Studi pada Perusahaan-Perusahaan yang Terdaftar di Bursa Efek Jakarta). Universitas Diponegoro: Semarang.
Viera, Ines Silva dan Maria Joao Jorge. 2009. Corporate Governance, Ethics and Social Responsibility: Comparing Continental European and Anglo- Saxon Firms. Portugal.
Waryanto, 2010. Pengaruh Karakteristik Good Corporate Governance (GCG) terhadap Luas Pengungkapan Corporate Social Responsibility (CSR) di Indonesia. Universitas Diponegoro: Semarang.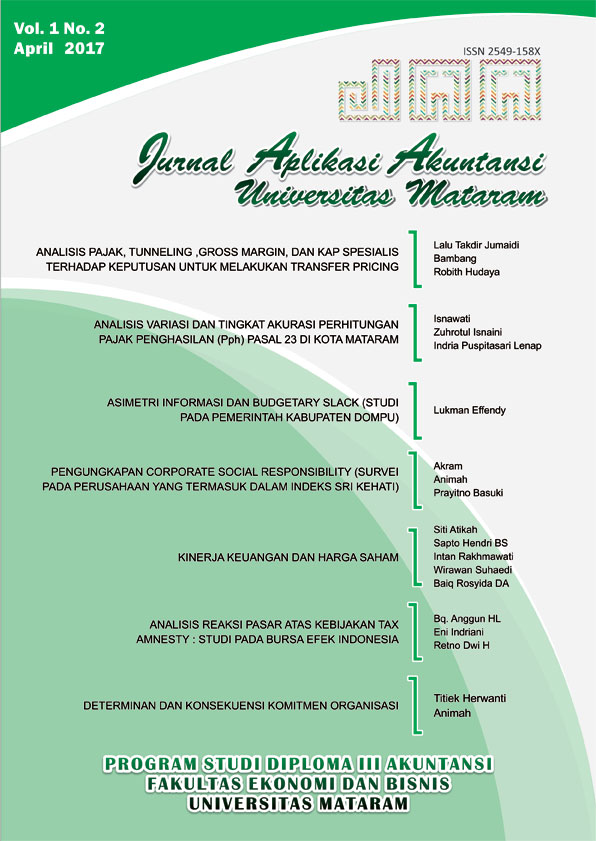 Downloads
How to Cite
Akram, H., Animah, A., & Basuki, P. (2018). PENGUNGKAPAN CORPORATE SOCIAL RESPONSIBILITY (SURVEI PADA PERUSAHAAN YANG TERMASUK DALAM INDEKS SRI KEHATI). Jurnal Aplikasi Akuntansi, 1(2), 59. https://doi.org/10.29303/jaa.v1i2.2