KOMPETENSI ACCOUNT OFFICER ANALISIS SYARIAH TERHADAP PERFORMANCE PEMBIAYAAN MUDHARABAH DENGAN RESIKO PEMBIAYAAN SEBAGAI INTERVENING (studi pada lembaga keuangan mikro syariah se pulau Lombok)
Keywords:
Competence sharia officer account, the performance of financing, risk of financing
Abstract
The objective of this study is to determine the influence of sharia account officers competence on the performance of mudharabah financing with the financing risk as intervening variable. Islamic microfinance institutions were selected as object of study in order to determine the extent of the theory related to the variables studied could be applied on the Islamic microfinance institutions. The data were obtained using a questionnaire distributed to the head of main office or branch office of sharia cooperative on the island of Lombok with requirements of sharia cooperative, BMT, boarding schools cooperative, and Islamic rural banks which had applied and have the authorization of mudharabah financing in lending decisions. The results showed that the sharia account officer competences have significant and negative influence on financial risk. Sharia officer competences also have significant and positive influence on the performance of financing. The results also showed that the risk of financing have significant and positive influence on the performance of financing. Generally, sharia account officer competence is important in minimizing the risk of financing and direct influence on the performance of financing. Thus, to improve the performance of Islamic micro financing with mudharabah can be done by increasing the competence of sharia account officer.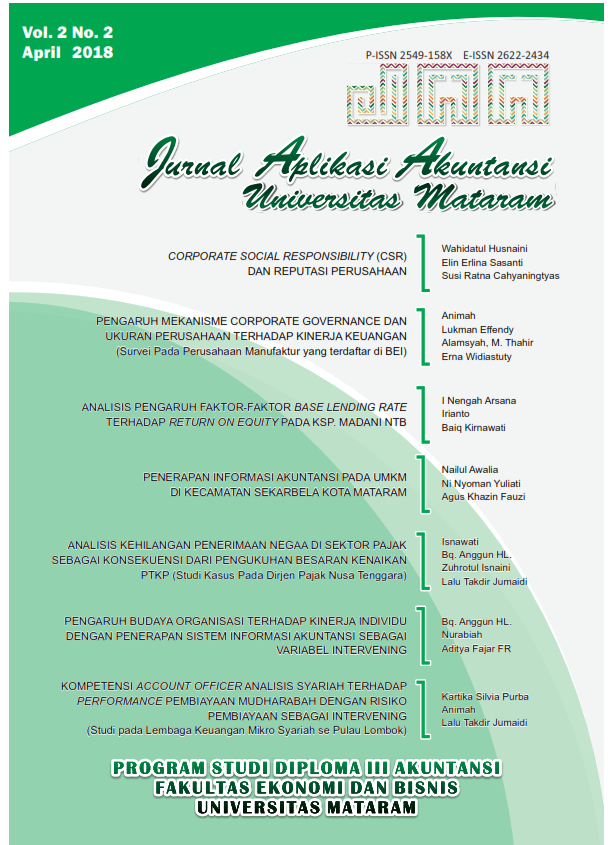 Downloads
How to Cite
Purba, K. S., Animah, A., & Jumaidi, L. T. (2018). KOMPETENSI ACCOUNT OFFICER ANALISIS SYARIAH TERHADAP PERFORMANCE PEMBIAYAAN MUDHARABAH DENGAN RESIKO PEMBIAYAAN SEBAGAI INTERVENING (studi pada lembaga keuangan mikro syariah se pulau Lombok). Jurnal Aplikasi Akuntansi, 2(2), 121–140. https://doi.org/10.29303/jaa.v2i2.27