KINERJA KEUANGAN DAN HARGA SAHAM
Keywords:
Harga Saham, Kinerja Keuangan, dan Faktor Fundamental
Abstract
Salah satu faktor yang menjadi bahan pertimbangan seorang investor atau calon investor saham dalam menentukan harga tawaran beli  maupun tawaran jual adalah kinerja keuangan. Berbagai literatur menyatakan bahwa mahal atau murahnya harga saham ditunjukkan oleh kinerja keuangan. Penelitian ini bertujuan untuk menguji secara empiris arah atau hubungan kinerja keuangan dengan harga saham  pada  perusahaan  sektor  pertanian dan sektor pertambangan pada periode 2013 hingga 2015. Penelitian ini juga mengelompokkan kinerja keuangan berdasarkan harga saham yang kurang dari Rp 500 dan harga saham diatas Rp 500 
Hasil analisis menunjukkan bahwa current ratio, debt to equity ratio, net profit margin, return on equity, earning per share, dan price earning rasio perusahaan  sektor  pertanian  memiliki  arah  yang  negatif  terhadap  harga saham, sedangkan arah positif ditunjukkan oleh asset turnover ratio, debt to total asset, financial leverage dan gross profit margin. Hasil yang berbeda terjadi   pada   harga saham   perusahaan   di   sektor   pertambangan.   Aset turnover ratio, debt to total asset, financial leverage, gross profit margin dan price earning ratio perusahaan sektor pertambangan memiliki arah yang negatif terhadap harga saham.
References
Ismail, Vinola Herawaty, and Kiki Munandar Witarno. "Analysis the Effect of Company's Fundamental Characteristics and Real Earnings Management to Stock Return Moderated by Audit Quality." OIDA International Journal of Sustainable Development, issn 1923-6654, e- issn 19233-6662, 2014: 23-44.
Kamonye, Ben N. "The Relationship Between Equity Prices and Financial Performance of Commercial Banks Quoted on The Nairobi Securities Exchange." Thesis. University of Nairobi, erepository.uonbi.ac.ke, October 2012.
Kohansal, Mohammad Reza, Amir Dadrasmoghaddam, Komeil Mahjori Karmozdi, and Abolfazl Mohseni. "Relationship Between Finansial Ratios and Stock Prices for the Food Industry Firms in Stock Exchange of Iran." World Applied Programming, vol (3), issue (10), October, issn 2222-2510, 2013: 512-521.
Liembono, RH, and A. Rudi Mulyana. Analisis Fundamental 2. Surabaya: PT. Menuju Insan Cemerlang, 2016.
Olugbenga, Adaramola Anthony, and Oyerinde Adewale Atanda. "The Relationship Between Financial Accounting Information and Market Values of Quoted Firms in Nigeria." Global Journal of Contemporary Research in Accounting, Auditing and Business Ethics, vol (1), issue (1), issn 2311-3162, 2014: 22-39.
Subramanyam, K.R., and John J Wild. Analisis Laporan Keuangan. Jakarta: Salemba Empat, 2010.
Wang, Junjie, Gang Fu, and Chao Luo. "Accounting Information and Stock Price Reaction of Listed Companies - Empirical Evidence from 60 Listed Companies in Shanghai Stock Exchange." Journal of Business and Management, vol (2), issue (2), issn 2291-1995, e-issn 2291-2002, 2013: 11-21.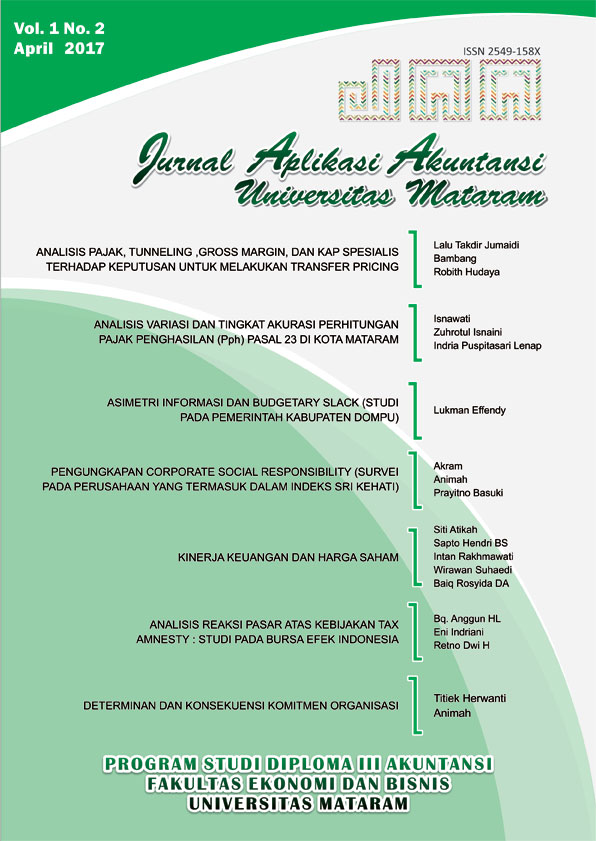 Downloads
How to Cite
Atikah, S., Hendri BS, R. S., Rakhmawati, I., Suhaedi, W., & Rosyida, B. (2018). KINERJA KEUANGAN DAN HARGA SAHAM. Jurnal Aplikasi Akuntansi, 1(2), 75. https://doi.org/10.29303/jaa.v1i2.3