ANALISIS REAKSI PASAR ATAS KEBIJAKAN TAX AMNESTY: STUDI PADA BURSA EFEK INDONESIA
Keywords:
tax amnesty, market reaction, abnormal return, event study
Abstract
Economic  events  frequently  determine  stock  price  fluctuations  in  stock exchanges. Sometimes, these economic events tend to get negative responses from market participants. This study uses event study analysis, where the event analyzed was the announcement of government policy in the fiscal sector, the tax amnesty. The announcement of the tax amnesty policy implementation is considered to provide information that elicits reaction in the capital market, which can be measured by the abnormal return on the stock before and after the announcement of tax amnesty policy. This event window of this study was 6 trading days i.e. t-3 to t + 3 since tax amnesty policy became published on July 14, 2016. The sample used in this study consisted of 45 companies listed in LQ-45 index during July 2016. Analysis of average abnormal return is performed based on paired sample t test on three days before and three days after the announcement of tax amnesty policy. The test results show that there is a significant difference in market reaction as  indicated  by  abnormal  return  value.  However,  the  result of  abnormal return  shows  negative  value.  It  means  that  tax  amnesty  policy  provides negative information for investor, which is contrary to the objective of tax amnesty policy to increase investment.
References
Andi. 2015. Belajar Cepat Analisis Statistik Parameterik dan Non Parameterik dengan SPSS. Wahana Komputer. Semarang.
Direktorat Jenderal Anggaran. 2016. Informasi APBN 2016. Direktorat Penyusunan APBN, Direktorat Jenderal Anggaran. Jakarta. Direktorat Jenderal Pajak. 2016. Amnesty Pajak. Kementerian Keuangan. Jakarta.
Direktorat Jendral Pajak. 2016. Tax Amnesty. Kementerian Keuangan Republik Indonesia.
Fahmi, I., 2014. Manajemen Keuangan Perusahaan dan Pasar Modal. Jakarta: Mitra Wacana Media.
Gunawan, A. 2016. Pengaruh Persepsi Tax Amnesty, Pertumbuhan Ekonomi dan Transformasi Kelembagaan Direktorat Jenderal Pajak Pada Penerimaan Pajak Tahun Pajak 2015 di Kantor Pelayanan Pajak Pratama Bandung Utara. Skripsi. Universitas Udayana:Fakultas Ekonomi Dan Bisnis.
Hadi, Sasana., 2004. Kegagalan Pemerintah Dalam Pembangunan. Jurnal Ekonomi 1(1): 31-38.
Hanafi, M.M., dan Halim, A., 2005. Analisis Laporan Keuangan. Yogyakarta: UPP AMP YKPN.
Hartono,J., 2016. Teori Portofolio dan Analisis Investasi. Yogyakarta: BPFE UGM.
Iryanie, E. 2009. Komitmen Stakeholder Perusahaan terhadap Kinerja Sosial Dan Kinerja Keuangan (Studi Empiris Pada Perusahaan yang Terdaftar di Bursa Efek Indonesia). Tesis.Universitas Dipoegoro Semarang.
Kementerian Hukum dan HAM, 2015. Naskah Akademik Rancangan Undang- undang tentang Ketentuan Umum dan Tata Cara Perpajakan.Jakarta.
Kementerian Keuangan Republik Indonesia. 2013. Undang-Undang KUP Dan Peraturan Pelaksanaannya. Undang-Undang republik Indonesia Nomor 16 Tahun 2009. Direktorat Penyuluhan, Pelayanan, dan Hubungan Masyarakat.Jakarta.
M. Irfan, Islamy., 2001, Prinsip-prinsip Perumusan Kebijakan Negara, Bumi Aksara, Jakarta.
Muttaqin, Z., 2013. Tax Amnesty di Indonesia. Bandung: PT. Refika Aditama.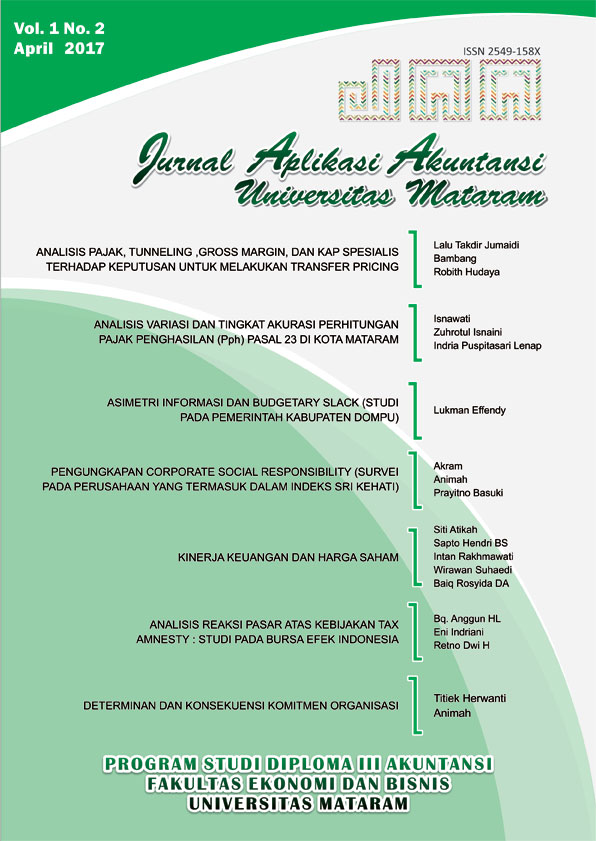 Downloads
How to Cite
Hilendri, B. A., Indriani, E., & Dewi H, R. (2018). ANALISIS REAKSI PASAR ATAS KEBIJAKAN TAX AMNESTY: STUDI PADA BURSA EFEK INDONESIA. Jurnal Aplikasi Akuntansi, 1(2), 97. https://doi.org/10.29303/jaa.v1i2.4