FAKTOR-FAKTOR KONTIJENSI YANG MEMENGARUHI PENGIMPLEMENTASIAN PRAKTIK AKUNTANSI MAANAJEMEN PADA USAHA KECIL MENENGAH (UMKM) DI KOTA MATARAM
Keywords:
Kontijensi, Praktek Akuntansi Manajemen, UMKM
Abstract
Perkembangan sector UMKM yang demikina pesat memperlihatkan bahwa terdapat potensi yang besar jika hal ini dapat dikelola dan dikembangkan dengan baikyang tentunya akan dapat mewujudkan usaha mikro, kecil, dan menengah yang tangguh. Tetapi ketidakmampuan UMKM untuk memanfaatkan alat atau praktik-praktik akuntansi manajemen dan penggunaan praktik akuntansi manajemen (PAM) oleh UMKM Indonesia masih didominasi oleh  PAM tradisional serta penggunaan PAM kontemporer masih sedikit. Oleh karena itu tujuan penelitian ini adalah ingin mengetahui seberapa jauh pengimplementasian PAM dan factor-faktor kontijensi yang berpengaruh pada pengimplementasian PAM oleh sector UMKM di Kota Mataram NTB. Adapun responden dalam penelitian ini adalah staf keuangan dan pemilik/manajer. Sumber data yang digunakan adalah data primer dengan penyebaran kusioner. Pengujian hipotesis menggunakan analisis regresi linier berganda. Hasil penelitiannya menyatakan bahwa implementasi praktik-praktik akuntansi manajemen sudah cukup bagus walaupun untuk UMKM yang skalanya kecil belum detail penggunaan akuntansi manajemen. Faktor-faktor kontinjensi yang berpengaruh pada pengimplementasian praktik akuntansi manajemen (PAM) yang digunakan oleh UMKM di kota Mataram NTB antara lain ketidakpastian lingkungan, persaingan pasar, tingkat kualifikasi staff akuntansi internal, dan ukuran perusahaan, sedangkan partisipasi pemilik atau manajer belum berpengaruh terhadap pengimplementasian PAM.
References
Ahmad, K. 2012. The use of management accounting practices in Malaysian SMEs. PhD Dissertation, University of Exeter, United Kingdom.
Al-Omiri, M., dan C. Drury. 2007. A survey of factors influencing the choice of product costing systems in UK organizations. Management Accounting Research, 18: 399-424.
Armitage, H. M., A. Webb, dan J. Glynn. 2016. The use of management accounting techniques by small and medium-sized enterprises: a field study of Canadian and Australian practices. Accounting Perspectives, 15: 31-69.
Chenhall, R. H. 2003. Management control systems design within its organizational context: findings from contingency-based research and directions for the future. Accounting, Organizations and Society, 28: 127-168.
Folk, J. M., H. G. Ray, dan W. N. Eric. 2002. Introduction to Managerial Accounting. New York: McGrawHill.
Ilias, A., M. Z. A. Razak, dan M. R. Yasoa'. 2010. The preliminary study of management accounting practices (MAPs) in Small Business. Global Business and Management Research: An International Journal, 2: 79-88.
Kontan.co.id. diakses pada tanggal 10 Februari 2019
Lopez, O. L., dan M. R. W. Hiebl. 2015. Management accounting in small and medium-sized enterprises: current knowledge and avenues for further research. Journal of Management Accounting Research, 27: 81-119.
Marc, M., D. Peljhan, N. Ponikvar, A. Sobota, dan M. Tekavcic. 2010. Determinants Of Integrated Performance Measurement Systems Usage: An Empirical Study. The Journal of Applied Business Research, 26: 63-76.
Marn, J. T. K., C. W. Hin, dan A. M. Bohari. 2016. Antecedents of strategic planning of small and mediumsized enterprises in Malaysia: the influence of ownership motivations and environmental uncertainty.International Review of Management Marketing, 6: 270-276.
McChlery, S., L. Meechan, dan A. D. Godfrey. 2005. Barriers and catalysts to sound financial management systems in small sized enterprises. CIMA: Research Executive Summaries Serries, 1.
Nandan, R. 2010. Management Accounting Needs Of Smes And The Role Of Professional Accountants: A Renewed Research Agenda. Journal of Management Accounting Research (JAMAR), 8: 65-77.
Prihastini & Sholihin, 2017.Penggunaan Praktik-Praktik Akuntansi Manajemen
Pada Usaha Kecil Menengah Dan Faktor-FaktorKontinjensinya.SNA XX Jember.
Reid, G. C. dan J. A. Smith. 2002. The bigger picture. Financial Management.
Santi, Paramita. 2010. Pengaruh Ketidakpastian Lingkungan Terhadap Sistem Informasi Akuntansi Manajemen dengan Variabel Moderasi Locus Of Control. Skripsi Universitas Mataram
Sugiyono. 2016. Metode Penelitian Bisnis. Bandung: Indonesia. Alfabeta.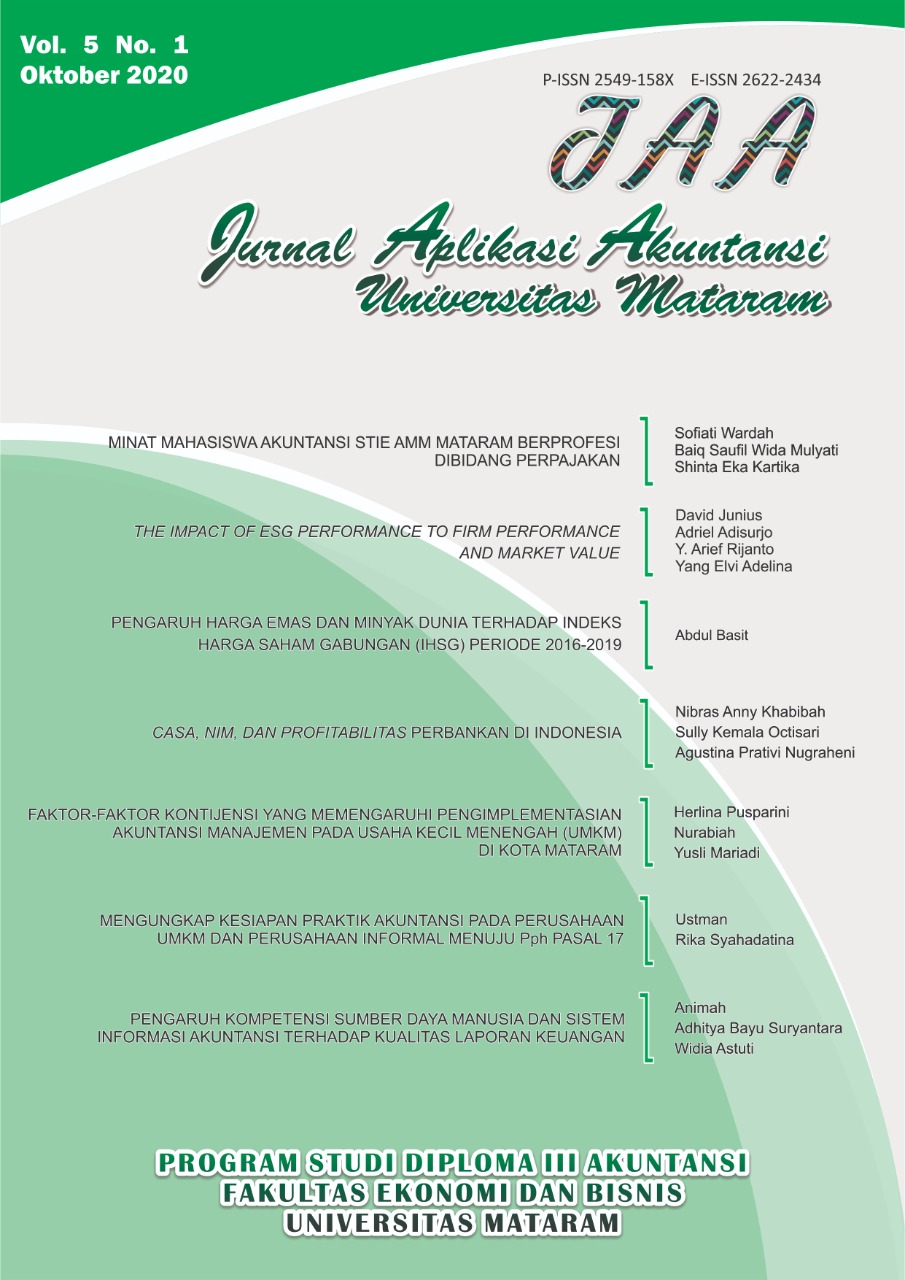 Downloads
How to Cite
Nurabiah, N., Pusparini, H., & Mariadi, Y. . (2020). FAKTOR-FAKTOR KONTIJENSI YANG MEMENGARUHI PENGIMPLEMENTASIAN PRAKTIK AKUNTANSI MAANAJEMEN PADA USAHA KECIL MENENGAH (UMKM) DI KOTA MATARAM. Jurnal Aplikasi Akuntansi, 5(1), 72–89. https://doi.org/10.29303/jaa.v5i1.91