RETURN PASAR MODAL DAN PASAR RAKYAT?
Keywords:
return, traditional market, capital market
Abstract
The value relevance according to Beaver (1968) is the explanatory power of accounting information, for example accounting earnings and book value are related to firm value represented by stock prices. The phenomenon is that many players from the capital market are carried out by the middle to upper class, even though on the other hand there are small investments that also generate returns, for example the traditional market. This study examines the differences in the value relevance of the capital market and the traditional market to obtain empirical evidence about the relevance of the value of stock returns between the capital market and the traditional market. This research was conducted around the scope of the Indonesian Capital Market (IDX) and Traditional Markets in the Mataram area. The results showed that the value of traditional market returns was more profitable than the capital market.
References
Ball, R. and P. Brown.1968. An Empirical Evaluation of Accounting Income Numbers. Journal of Accounting Research. Vol. 6 (Autumn). pp. 159-178
Barth, M.E., and WR Landsman. 1995. Fundamental Issues Related to Using Fair Value Accounting for Financial Reporting. Accounting Horizon. Vol. 9 No. 4. pp. 97-107.
Barth, ME., John A. Elliot, and Mark W. Finn. 1999. Market Rewards Associated With pattern on Increasing Earning. Journal of Accounting Research. Vol. 2 (Autumn). pp. 387-413.
Barth, ME., W.H. Beaver and W.R. Landsman. 2001. The Relevance of Value Relevance Research for Financial Accounting Standard Setting: Another View. Journal of Accounting and Economics. Vol. 39 (September). pp. 77-104.
Beaver, William H. 1968. The Information Content of Earnings. Journal of Accounting Research. Vol. 6 (supplement) pp. 67-92.
Beaver, William H. 2002. Perspectives on Recent Capital Market Research. The Accounting Review. Vol 7 (2) April. pp. 453-474.
Brown, Stephen., Kin Lo and Thomas Lys. 1999. Use of R2 in Accounting Research: Measuring Changes in Value Relevance Over the Last Four Decades. Journal of Accounting and Economics. Vol. 28. pp. 83-115.
Burgstahler, D. and I. Dichev, 1997, Earning, Adaption, and Equity Value, The Accounting Review, vol 72 pp187-215.
Dechow, P, R. Sloan and Sweeney, 1995. Detecting Earning Management. The Accounting Review. Vol 70 pp.193-226.
Dontoh, Alex., Suresh Radhakrishnan and Joshua Ronen. 2004. The Declining Value Relevance of Accounting Information and Non-Information-Based Trading: An Empirical Analysis. Contemporary Accounting Research. Vol. 21 pp. 793-812.
Francis, Jennifer and Catherine Schipper. 1999. Have Financial Statements Lost Their Relevance. Journal of Accounting Research. Vol. 37 (2). pp. 319-352.
Healy, P., 1985. The The Impact of Bonus Scheme on Selection of Accounting Principles. Journal of Accounting and Economic.
Healy, P. And J.M. Wahlen. 1999. A Review of Earning Managements Literature and Its Implication for Standart Setting. Accounting Horizon Vol 13 pp.365-384.
Jones, Jeniffer J. 1991. Earnings Management During Import Relief Investigation. Journal of Accounting Research, Vol 29 No 2 Autumn.
Lev, Baruch and Paul Zarowin. 1999. The Boundaries of Financial Reporting and How To Extend Them. Journal of Accounting Research. Vol. 37 (2). pp. 353-385.
Marquardt, Carol A. dan Christine I. Weidman, 2004. The Effect Of Earnings Management On Value Relevance Of Accounting Information. Journal of Business Finance and Accounting.
Ohlson, James A. 1995. Earnings, Book Values, and Dividen in Equity Valuation. Contemporary Accounting Research, Vol 11 No 2 Spring.
Peraturan Menteri Perdagangan RI Nomor: 56/M_DAG/PER/9/2014 tentang Perubahan atas Peraturan Menteri Perdagangan Nomor 70/M-DAG/PER/12/2013 Tentang Pedomanan Penataan dan Pembinaan Pasar Tradisional, Pusat Perbelanjaan dan Toko Modern
Sloan, R., 1996. Do Stock Price fully Reflect Information in Accruals and Cash Flow About Future Earnings? The Accounting Review.
Subramanyam, K. R., 1996. The Pricing of Discretionary Accrual. Journal of Accounting and Economic. Vol 22 pp. 249-281.
Teoh Siew Hong, Ivo Welch, and T.J. Wong. 1998. Earning Management and the Underperformance of Seasoned Equity Offering. Journal of Financial Economic. Vol 50 pp.63-99.
UU No. 8 Tahun 1995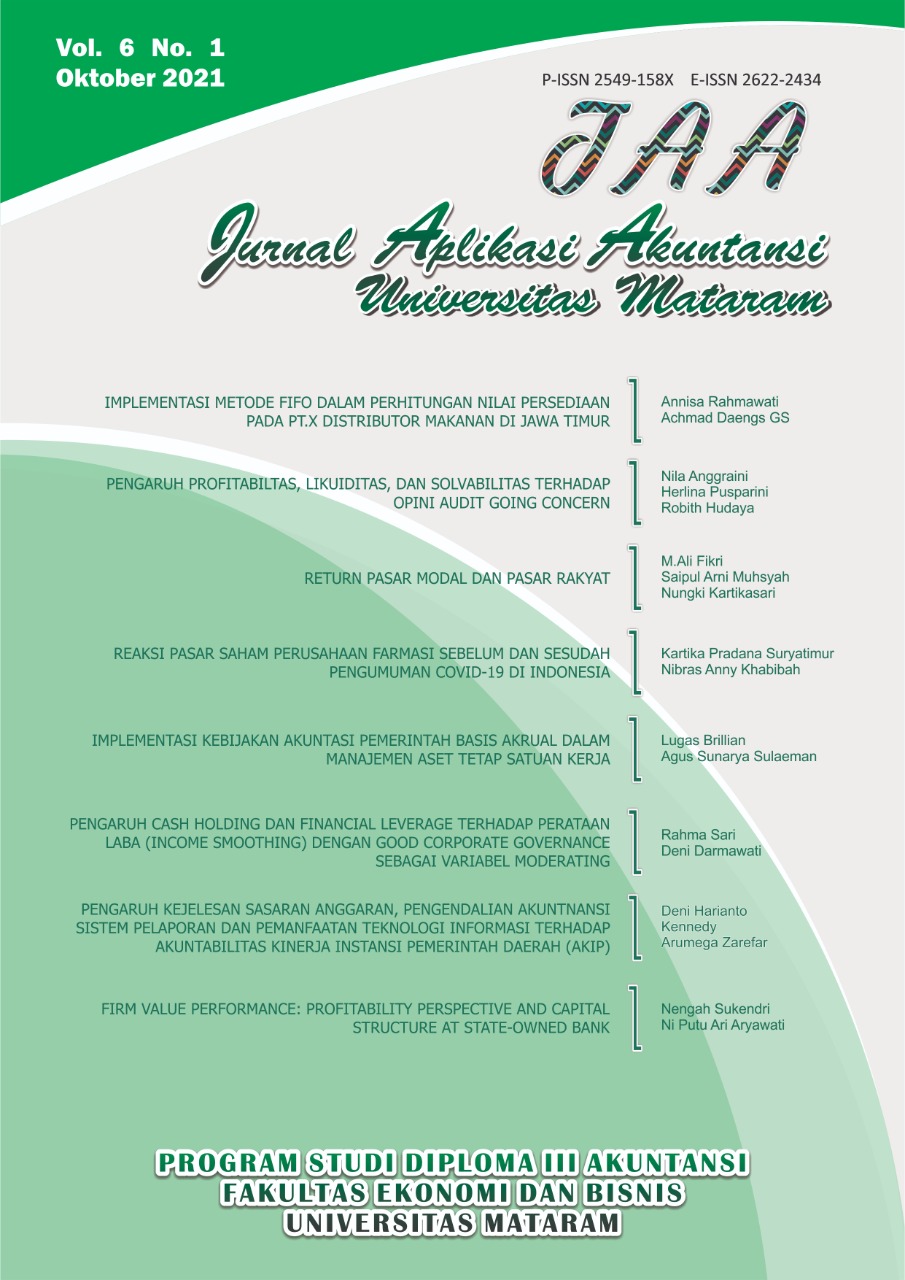 Downloads
How to Cite
Ali Fikri, M., Muhsyaf, S. A., & Kartikasari, N. (2021). RETURN PASAR MODAL DAN PASAR RAKYAT?. Jurnal Aplikasi Akuntansi, 6(1), 56–66. https://doi.org/10.29303/jaa.v6i1.98