ANALISIS CONTENT IKLAN BIDANG AKUNTANSI DENGAN PERSYARATAN KETERAMPILAN AKUNTAN
Keywords:
job advertisement content, professional skills, accountants
Abstract
The purpose of this study is to find out what professional skills are most needed by accountants based on an analysis of job advertisements. This type of research is descriptive research with content analysis approach. The subjects is 14 trusted job search sites in Indonesia. The results of the study stated that the order of qualification of accountant skills required by companies listed on credible job search sites in Indonesia includes 1) technical skills 2) interpersonal skills 3) personal skills 4) intellectual skills and 5) organizational skills. The results of this study indicate that mastery of accounting basics and mastery of technology in the form of accounting software are hard skills that must be possessed by accounting graduates, followed by soft skills such as communication and English, ability to adapt and work under pressure, critical and logical thinking, and ability to work according to deadlines.
References
Biggs, J., & Tang, C. (2013). Teaching for quality learning at university. (2nd Edn.). In Innovations in Education and Teaching International (Fourth, Vol. 50, Issue 4). Maidenhead, Berkshire, England: Open University Press / Mc Graw Hill. https://doi.org/10.1080/14703297.2013.839332
Colquhoun, L. (2018). Soft Skills or Technical Skills? How Accountants Stay Relevant in a Changing World. https://www.intheblack.com/articles/2018/11/06/soft-skills-or-technical-skills
Cornick, M. F., Roberts-Gassler, V., & Albertson, J. T. (2010). The Value of Foreign Language Skills for Accounting and Business Majors. Journal of Education for Business, 66(3), 161–163. https://doi.org/10.1080/08832323.1991.10117462
Daylor, J., & Amant, S. S. (2019). Education, Preparation, and Training of Young Professionals. https://www.cpajournal.com/2019/01/17/icymi-education-preparation-and-training-of-young-professionals/
Dunbar, K., Laing, G., & Wynder, M. (2016). A Content Analysis of Accounting Job Advertisements: Skill Requirements for Graduates. E-Journal of Business Education and Scholarship of Teaching, 10(1), 58–72.
Ghani, M. A., & Suryani, A. W. (2020). Professional Skills Requirements for Accountants: Analysis of Accounting Job Advertisements. Jurnal ASET (Akuntansi Riset), 12(2), 212–226. https://doi.org/10.17509/jaset.v12i2.26202
Handayani, S. (2016). Pentingnya Kemampuan Berbahasa Inggris Sebagai Dalam Menyongsong Asean. Ikatan Sarjana Pendidikan Indonesia (ISPI) Jawa Tengah, 3(1), 102–106. http://ispijateng.org/wp-content/uploads/2016/05/PENTINGNYA-KEMAMPUAN-BERBAHASA-INGGRIS-SEBAGAI-DALAM-MENYONGSONG-ASEAN-COMMUNITY-2015_Sri-Handayani.pdf
IAI. (2020). Kejar Ketertinggalan Akuntan di ASEAN, IAI Siapkan Sertifikasi dan Penataan Profesi. http://iaiglobal.or.id/v03/berita-kegiatan/detailberita-895=siaran-pers--iai-icaew-seminar-
Jackling, B., & De Lange, P. (2009). Do accounting graduates' skills meet the expectations of employers? a matter of convergence or divergence. Accounting Education, 18(4–5), 369–385. https://doi.org/10.1080/09639280902719341
Kavanagh, M. H., & Drennan, L. (2008). What skills and attributes does an accounting graduate need? Evidence from student perceptions and employer expectations. Accounting & Finance, 48(2), 279–300. https://core.ac.uk/download/pdf/11037873.pdf
Klibi, M. F., & Oussii, A. A. (2013). Skills and Attributes Needed for Success in Accounting Career: Do Employers' Expectations Fit with Students' Perceptions? Evidence from Tunisia. International Journal of Business and Management, 8(8). https://doi.org/10.5539/ijbm.v8n8p118
Kurniawan, R. (2017). Keterampilan dan Atribut yang Dibutuhkan oleh Lulusan Akuntansi untuk Sukses Berkarir: Pengujian Senjangan Persepsi Mahasiswa dan Pemberi Kerja. Jurnal Riset Akuntansi Terpadu, 12(1), 12–34.
Lukman, H., & Winata, S. (2017). Pemilihan Karir Sebagai Akuntan Publik Bagi Mahasiswa Perguruan Tinggi Swasta Dengan Pendekatan Theory of Planned Behaviour. Jurnal Akuntansi, 21(2), 208. https://doi.org/10.24912/ja.v21i2.195
Palmer, K. N., Ziegenfuss, D. E., & Pinsker, R. E. (2004). International knowledge, skills, and abilities of auditors/accountants: Evidence from recent competency studies. Managerial Auditing Journal, 19(7), 889–896. https://doi.org/10.1108/02686900410549411
Pan, P. & Parera, H. (2012). Market relevance of university accounting programs : Evidence from Australia. Accounting Forum, .91-108.
Puspita, W. D. (2015). Peranan kurikulum dalam peningkatan kompetensi lulusan akuntansi di era masyarakat ekonomi asean. Prosiding Seminar Nasional Pendidikan Ekonomi UNY, 481–489. http://eprints.uny.ac.id/id/eprint/21938
Ratmanida. (2012). KESELARASAN ANTARA KEBUTUHAN BAHASA INGGRIS DENGAN MATERI AJAR BAHASA INGGRIS MAHASISWA JURUSAN AKUTANSI Ratmanida Jurusan Bahasa dan Sastra Inggris FBS UNP. 1987, 59–66.
Setyanto, A. (2014). Pentingnya Penguasaan Bahasa dan Budaya Asing Sebagai Pendukung Utama Sektor Pariwisata. Jurnal Pariwisata: FIB Universitas Brawijaya, 1(1), 1–12.
Sevima. (2018). Tantangan Perguruan Tinggi di Era Revolusi Industri 4.0. https://sevima.com/tantangan-perguruan-tinggi-di-era-revolusi-industri-4-0/
Sulistiani, D. (2012). Faktor-faktor yang Memengaruhi Niat Mahasiswa Akuntansi Untuk Berkarier Sebagai Akuntan Publik: Aplikasi Theory of Planned Behavior (Studi Empiris Pada Mahasiswa Universitas Diponegoro). Jurnal Universitas Diponegoro: Semarang., 1–66. http://eprints.undip.ac.id/35672/1/Skripsi_SULISTIANI.pdf
Suryani, A. W. (2018). The Supply Shortage of Accounting Graduates in Indonesia: The Public Accounting Firms Perspective. KnE Social Sciences, 3(3), 374. https://doi.org/10.18502/kss.v3i3.1896
Susanti, M., Dewi, S. P., & Sufiyati. (2019). Factors Affecting The Selection Of Student Career As A Public Accountant. Jurnal Akuntansi, 23(2), 269. https://doi.org/10.24912/ja.v23i2.588
Tan, L. M., & Laswad, F. (2018). Professional skills required of accountants: what do job advertisements tell us? Accounting Education, 27(4), 403–432. https://doi.org/10.1080/09639284.2018.1490189
Wijaya, H. (2018). Ringkasan dan Ulasan Buku Analisis Data Penelitian Kualitatif (Prof. Burhan Bungin). March, 1–45.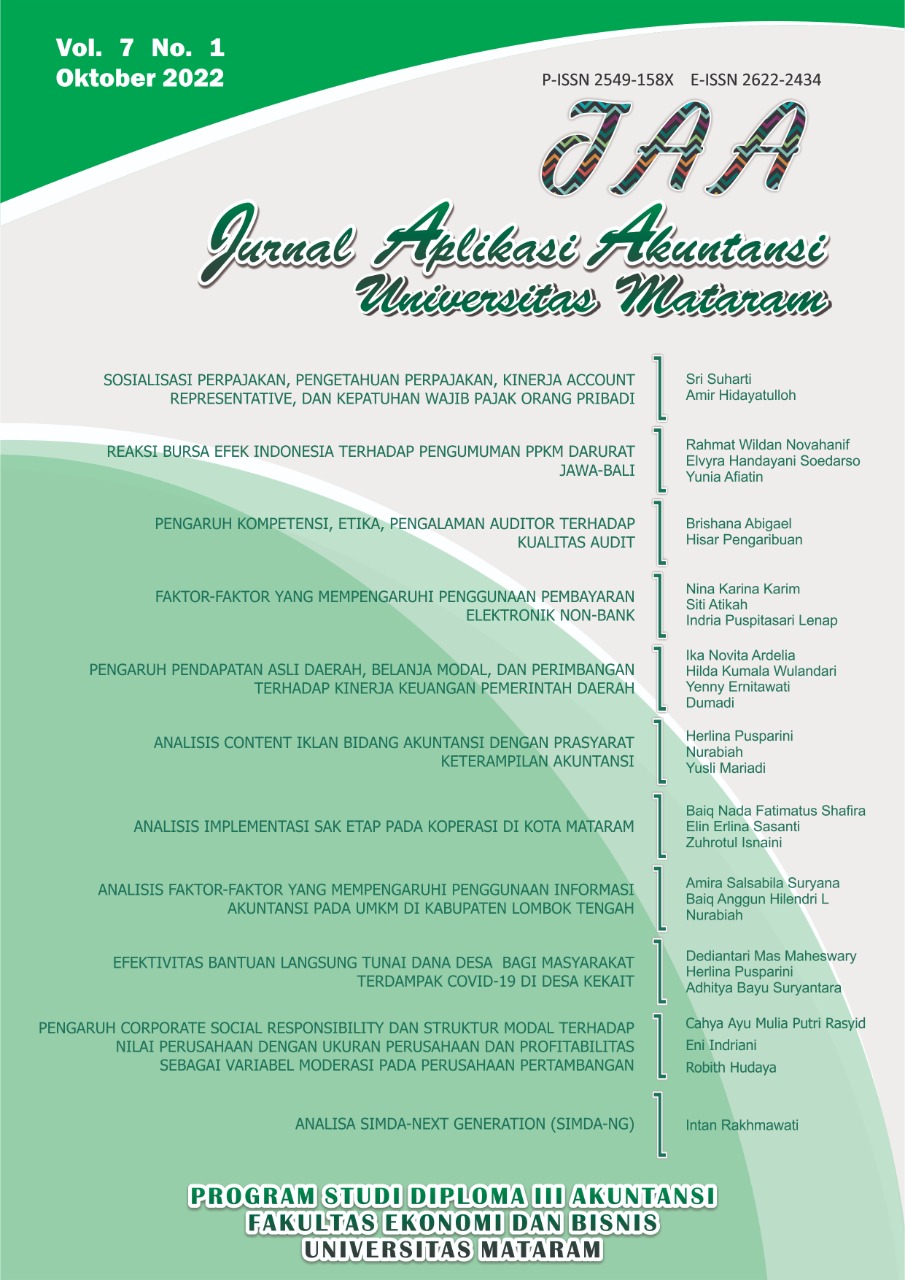 Downloads
How to Cite
Pusparini, H., Nurabiah, N., & Mariadi, Y. (2022). ANALISIS CONTENT IKLAN BIDANG AKUNTANSI DENGAN PERSYARATAN KETERAMPILAN AKUNTAN. Jurnal Aplikasi Akuntansi, 7(1), 81–94. https://doi.org/10.29303/jaa.v7i1.163
License
Copyright (c) 2022 Herlina Pusparini, Nurabiah, Yusli Mariadi
This work is licensed under a Creative Commons Attribution-NonCommercial-ShareAlike 4.0 International License.